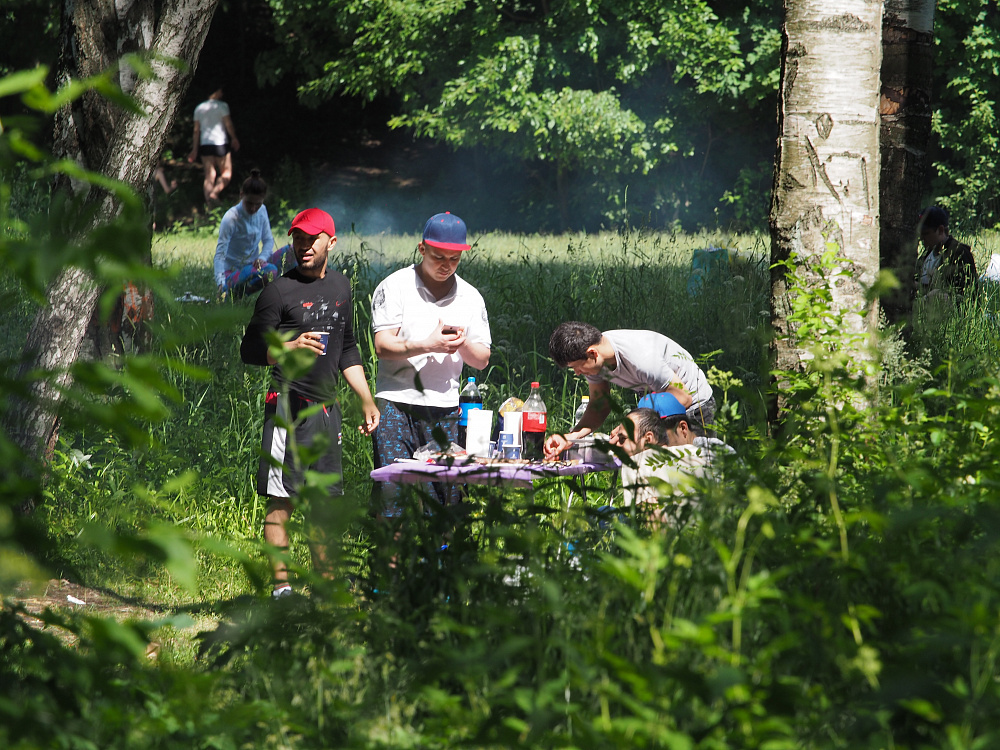 Share
May Day opens the season of barbecue and outdoor recreation. But before packing the brazier and marinating the meat, let us recall what you can get a fine of up to 500 thousand rubles for. "Fontanka" has collected answers to the most pressing questions of picnic lovers.
Speaking about frying barbecue "in nature", almost everyone imagines a sortie into the wilderness, where there are no annoying neighbors, and you can conjure over the grill without fear that the meat with a golden crust will be taken away from under your nose right with skewers.
To kindle a fire and fry barbecue in St. Petersburg, 45 sites controlled by St. Petersburg State University were to be landscaped "Resort forest park". Alas, they are not yet ready to accept vacationers on May Day. As Fontanka was told in the institution, "all places of rest under reconstruction".
Some zones will open in May, and in full all 45 will be put into operation before June 30. You can follow the opening of the sites on site "Resort Forest Park".
In all other places on the territory of the city – parks, squares, gardens, and even more so in courtyards, it is impossible to make fires and kindle barbecues.
Yes, easily! But the whole trick is that you can't kindle a fire where you feel like it, even though this is your site. This can be done in specially designated and equipped places. This is stated in Rules of the fire regime in the Russian Federation. To ensure that the fire department does not find fault with you, five important conditions must be observed:
In the area where you are going to fry the barbecue, within a radius of two meters there should be no dead wood and dry grass, firewood, chips and sawdust, and other materials that can flare up even from a spark.
The frying area should be located away from the house, barn, bathhouse and other buildings. The regulated footage is 5 meters: further you can, closer – you can't.
Well, the fire itself should be kindled in the brazier or brazier. Well, or at worst, dig a hole – 30 cm deep and 1 meter in radius.
If there is no brazier, no brazier, and there is nothing to dig a hole with, you will have to crawl away with a fire from houses and baths and everything else that is flammable by 50 meters.
Have you finished frying or has the wind suddenly picked up? Fill the fire with water or fill it with sand or earth. The signal that everything is done correctly will be the complete cessation of smoldering coals.
The fire season in St. Petersburg began on April 15, since the snow melted, and it will last until stable rainy autumn weather.
By itself, the fire regime does not impose any restrictions on the ignition of barbecues, if you do this in specially equipped places. But if a special fire regime has been established in the territory where you intend to fry a barbecue, you cannot take risks and burn a fire.
Free recreation areas where you can kindle fires are not ready for May Day, this is a fact. But all is not lost – a picnic area where it is allowed to make fires, fry shish kebabs and barbecues can be rented. In many ways, the price depends on the level of comfort of the site where you intend to stay, and proximity to the city. An important note – empty seats disappear right before your eyes.
The most budgetary place for frying barbecue in GREENVALD Park Scandinavia for May will cost 2.5 thousand rubles, another 3 thousand will need to be left as a deposit. For this money, you will be placed on a barbecue place by the lake with a table and seats for 6 people. If your company, for example, has 8 people, do not expect to get by with folding chairs taken from home and sit at the edges of the table – you will be offered to move to the veranda with a barbecue, the rental price is 5 thousand rubles.
In Golden Key and Co., budget places within the city have already been snapped up, as experienced and reasonable people began to book sites ahead of time. A grill house near the city "At the Lake", ready to accommodate a company of 15 people, will cost 10 thousand rubles. Rental time: from 09:00 to 23:00. If you need it cheaper, you will have to move to Ladoga: it is still realistic to find a gazebo from 3 thousand rubles.
In the country club "Forest Convent" a house with a capacity of up to 25 people is already occupied on May 1. But there is an alternative: a small company of 5 people can be accommodated in a bathhouse, which also includes a grill house. The tandem will cost 6 thousand for the first two hours, each hour of extension will increase the amount by 1.5 thousand rubles, another thousand rubles will have to be paid for the entire time you are in the bath. The grill house cannot be rented separately.
A grill house in Lesok Picnic Park will cost from 5 thousand rubles, the rental time is from 11 am to 9 pm. The most budgetary place in Ladoga Park will cost 2 thousand rubles and it will be just a table. If you want something more reliable in unstable weather, for example, a tent, then renting it will cost 5 thousand rubles. Rental time is from 10 am to 10 pm.
A table with chairs and a barbecue on Lake Korkinskoye can be rented from 2.3 thousand rubles. Those who want to get cozy will be offered a tent from 4,000 rubles. Regardless of where you are located, you will be charged another 300 rubles per car for entering by car.
Anyone who kindles fires and barbecues in green areas faces punishment. This is stated in article 31 Petersburg Law on Administrative Violations. Citizens will be fined from 3 to 5 thousand rubles, officials – from 5 to 30 thousand rubles, organizations will have to fork out in the amount of 50 to 500 thousand rubles.
If you intend to do the same on the beach, then punishment will inevitably follow here, this is stated in paragraph 10 of article 20 of the same law. For violating the maintenance of beaches, a citizen will be fined from 1 to 5 thousand rubles, an official – from 2 to 5 thousand rubles, an organization – from 20 to 50 thousand rubles.
From 2023, you can get a fine from 3 to 4.5 thousand rubles (Article 8.42 of the Code of Administrative Offenses) for parking near a reservoir. Article 65 of the Water Code of the Russian Federation prohibits driving up to the water, and in order not to spoil your mood, the car should be left outside the boundaries of the water protection zone:
near a river and stream up to 10 km long, it is 50 meters;
with a length of a reservoir from 10 to 50 km – 100 m;
near the river and stream from 50 km – 200 meters;
at the lake and reservoir – 50 meters;
by the sea – 500 meters;
for channels – along the width of the right-of-way.
In 2022, according to the Committee on Law, Order and Security of St. Petersburg, as of April 26, 154 protocols were drawn up for bonfires and barbecues in parks, three times less for barbecues on the beach, 48. If you are interested in amounts, then for park barbecues the total amount fines reached 433 thousand rubles, for the beach – 12 thousand, another 36 people got off with warnings.
Natalia Vyazovkina, Fontanka.ru