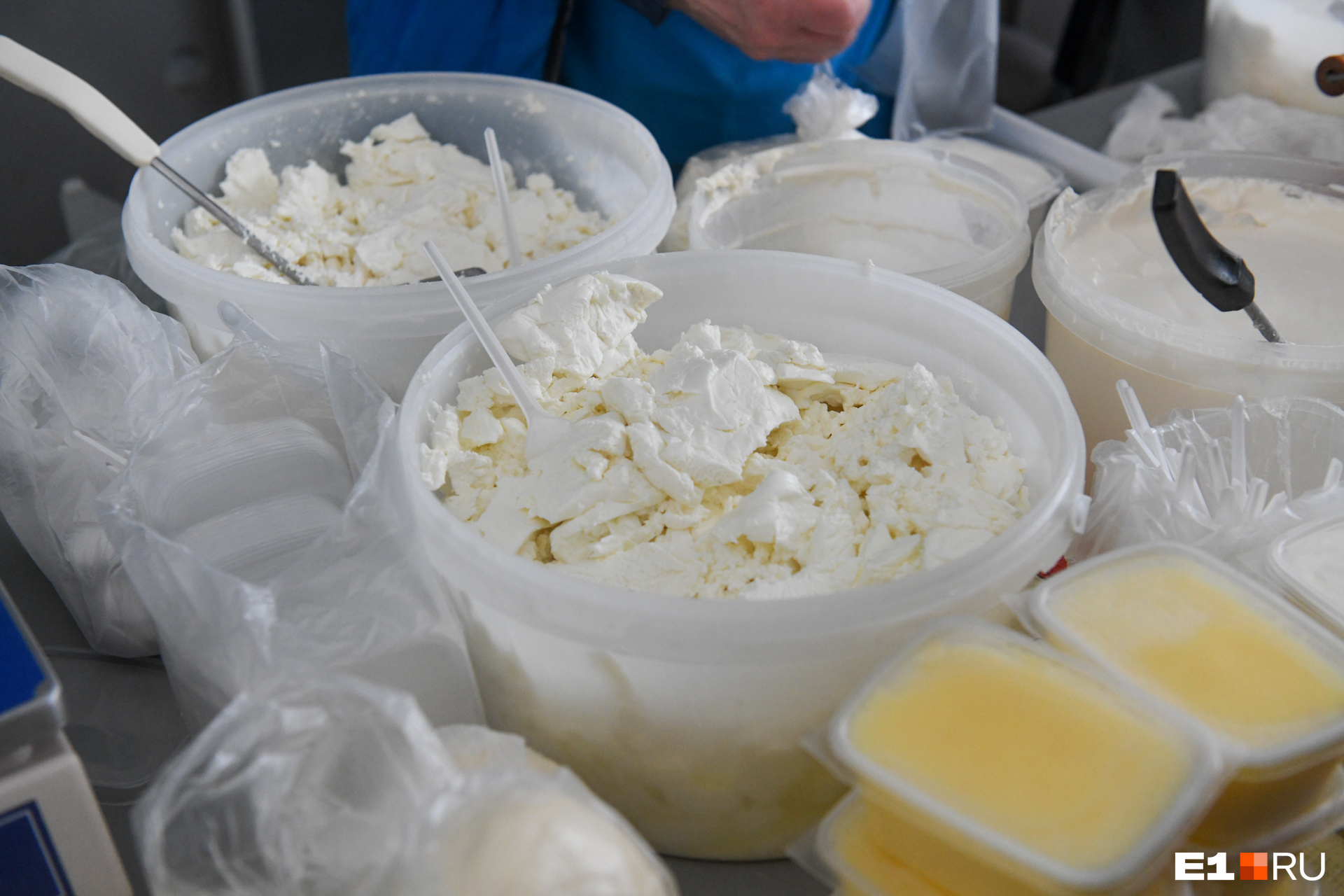 Share
We have all heard that cottage cheese is good for teeth and bones because it contains a lot of calcium. And it also improves the activity of the gastrointestinal tract and normalizes intestinal motility due to lactic acid bacteria. Especially sophisticated curd adepts even heat it and apply it to burns so that they heal faster. After this, we will not be surprised if we learn that cottage cheese can raise even the terminally ill to their feet. No, we are not against cottage cheese, we just decided to find out if its benefits are exaggerated and whether everyone can eat it. After all, surely there are those who cannot have cottage cheese?
If you have bone problems, cottage cheese definitely does not hurt. But one will not be enough. Because it's not just calcium that affects bone health.
— In principle, calcium is contained in what we consume: in cottage cheese, meat, milk, and various other products, — traumatologist Alexei Bazhenov explains. "In general, this is not a deficient trace element that is lacking in our food. The question is how to digest it. It is well absorbed with adequate levels of vitamin D in the body. If there is no vitamin D, then you can eat any kind of calcium: even in tablets, even in cottage cheese – it is unlikely that it will enter the skeletal system in sufficient quantities.
Aleksey Bazhenov is a traumatologist-orthopedist of the highest qualification category, Candidate of Medical Sciences, Head of the Department of Traumatology, Orthopedics and Neurosurgery.
If you regularly eat cottage cheese, you can reduce the risk of coronary heart disease, normalize cholesterol levels, and strengthen blood vessels. With the systematic use of cottage cheese, hemoglobin in the blood increases, the functioning of the nervous system improves, and the risk of high blood pressure decreases.
Methionine contained in cottage cheese is responsible for burning fat in the body. This is an amino acid that helps maintain normal weight and avoid obesity of internal organs, including the liver and heart. Fat-free cottage cheese is best for weight loss, but it should be borne in mind that it also has less energy value. Therefore, to replenish his strength, he will have to eat more. As for vitamins (in particular A, D and E), they are not in low-fat cottage cheese at all.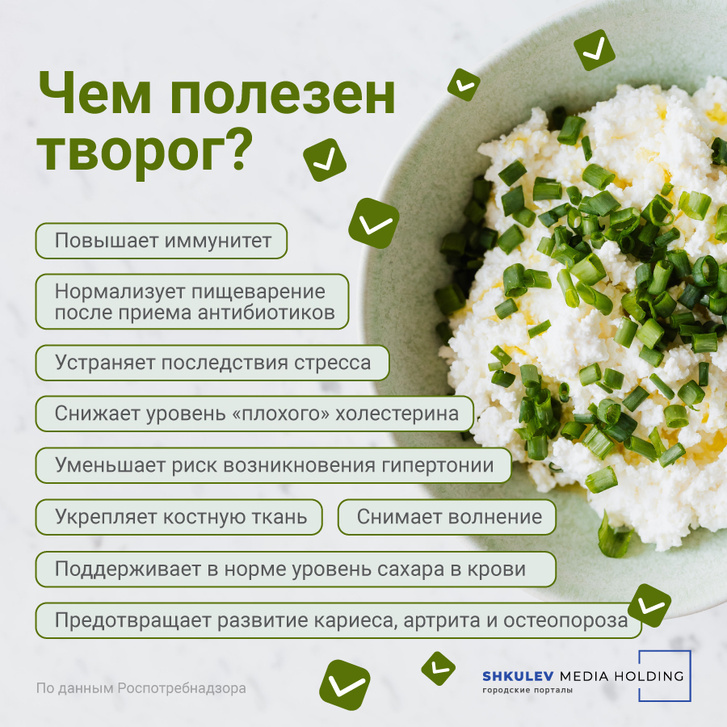 Share
Here you can remember one elementary rule: the fatter the cottage cheese, the less protein it contains.
"Fat-free cottage cheese contains more protein than the classic nine percent product," says nutritionist Tamara Kramcheninova. – In terms of protein content, it is not inferior to fish or meat, but it is absorbed by the body much easier. Since it is a fermented product, people with lactose intolerance can eat it. In addition, fat-free cottage cheese is often included in many diets.
Tamara Kramcheninova is a dietitian-nutritionist, sports medicine and exercise therapy doctor, nutrition consultant, author of courses on nutraceuticals, sports nutrition, hematomonitoring and detox, master of sports in deadlift.
Not only is it possible, it is necessary! For the body of a pregnant woman, cottage cheese plays an important role, because it is needed for building bones and for the proper maturation of the fetus as a whole. It contains folic acid, which contributes to the healthy formation of the nervous, immune and hematopoietic systems of the child. At the same time, doctors recommend eating cottage cheese with a fat content of 5% and 9% during pregnancy. Of course, if you have no contraindications.
Curd has few contraindications. Basically, these are personal intolerances, allergies to milk protein and kidney disease (due to the high protein content, cottage cheese loads the organs of the excretory system). You should also be more careful with cottage cheese if you have obesity or atherosclerosis.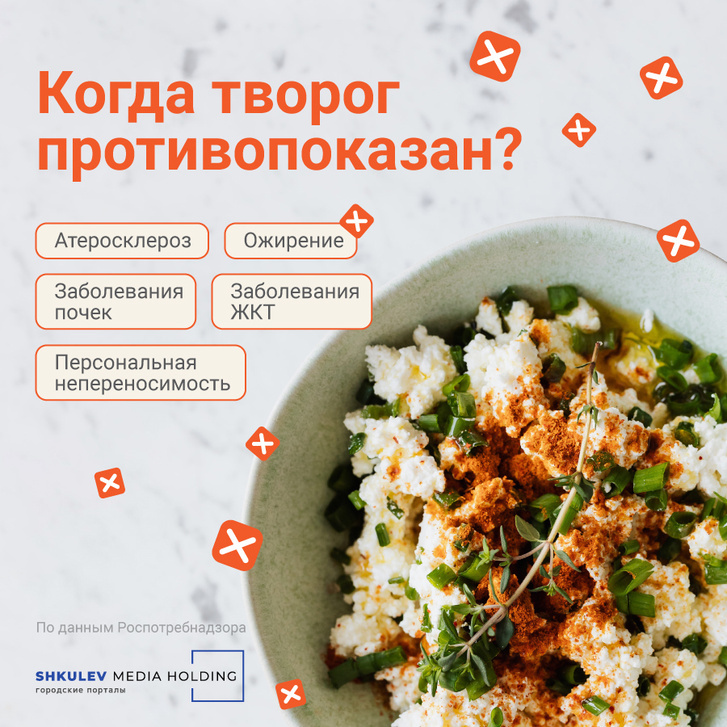 Share
– Usually, swelling after cottage cheese appears in people who are on a diet. Especially on carbohydrate-free or salt-free, says Tamara Kramcheninova. – This is due to the fact that the product has a lot of sodium, which retains water. If this is about you, stop experimenting on yourself.
The quality, taste, color and smell of cottage cheese directly depend on the production technology, the mass fraction of fat, the use of food fillers and additives. High-quality cottage cheese is always white in color with a creamy tint, and the smell is slightly sour. In low-fat cottage cheese, whey can stand out, but only in a small amount. Consistency – soft, soft-oily and homogeneous.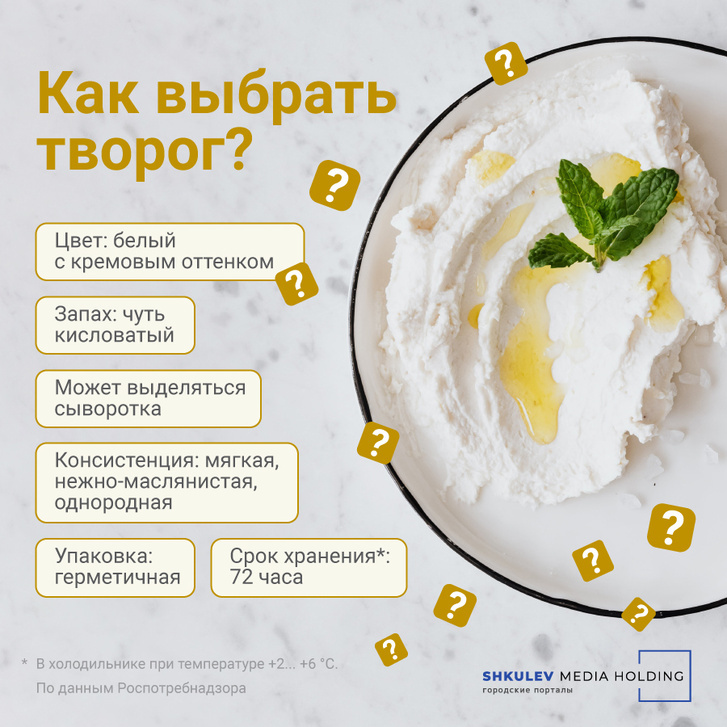 Share
Cottage cheese is a perishable product, and even at low temperatures (0… +2 °C) its quality deteriorates rapidly. According to sanitary rules, in the refrigerator at a temperature +2… +6 °С cottage cheese is stored for 72 hours, but modern technologies and types of packaging can extend the shelf life up to a month.
– A good product will only contain milk, sourdough, maybe even calcium chloride. The one that is not recommended has vegetable fats, starch, something else, says doctor Zukhra Pavlova. – Also look at the expiration date: if three to five days, then the product is natural. More – there are already questions.
Zukhra Pavlova – doctor – endocrinologist-andrologist, candidate of medical sciences.
Doctors advise to throw out expired cottage cheese immediately. It is a favorite breeding ground for yeasts and molds. Maybe a few times you will be blown away (in a good way), but once poisoned with sour milk, you will never forget this experience.