New traffic restrictions from May 15-16 will come into force in the Vyborgsky, Kalininsky, Krasnoselsky, Nevsky and Petrogradsky districts of St. Petersburg. Traffic jams will also be added on Bolshoy Sampsonievsky Prospekt, Nauki Prospekt and Sverdlovsk Embankment.
Vyborgsky district
From May 15 to May 18, for the construction of a gas pipeline in Pargolovo, traffic will be blocked along Kooperativnaya Street from Vologdina Street to Donetsk Street, the press service of the State Administrative and Technical Inspectorate of St. Petersburg reports on May 12. A detour is provided along Vologdina Street, Olginskaya Road and Donetskskaya Street.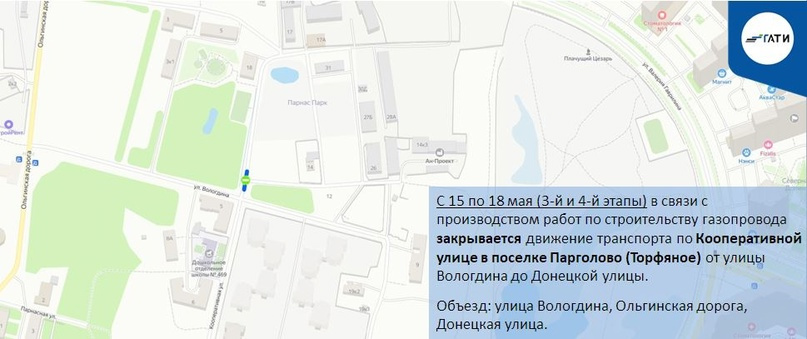 Share
A gas pipeline is also being laid on Bolshoy Sampsonievsky Prospekt. Due to the work, from May 16 to May 21, traffic will be limited at the intersection of Bolshoi Sampsonevsky Prospekt and Kantemirovskaya Street, and until May 30, travel along Bolshoi Sampsonievskoye in the direction from Kantemirovskaya Street to 1st Murinsky prospect. It will be possible to get around on Kantemirovskaya street, Lesnoy avenue, 1st Murinsky prospect, Studencheskaya and Zemledelcheskaya streets.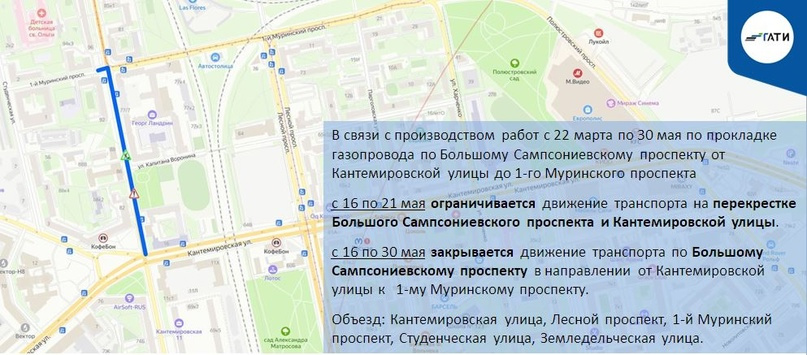 Share
Kalininsky district
From May 15 to June 30, traffic will be limited along Nauki Avenue from Akademika Konstantinov Street to Vedeneeva Street. A gas pipeline has been reconstructed there since mid-March. We also remind you that until June 3, travel is limited along Vedeneeva Street near Nauki Avenue.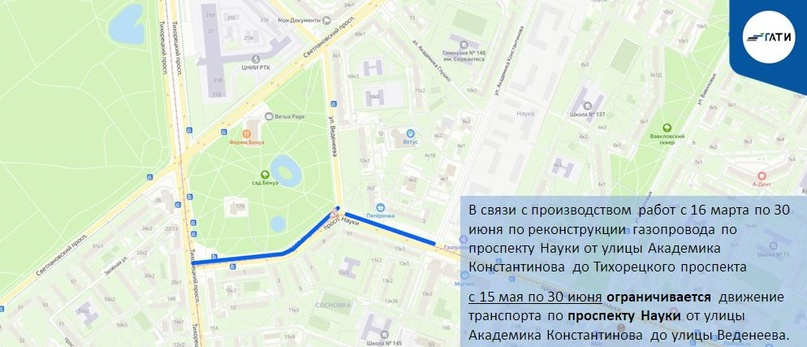 Share
On the Sverdlovskaya embankment, drivers will be squeezed out due to the arrangement of entrances and exits in the section from Vatutina Street to Malookhtinsky Bridge. On Monday, May 15, traffic will be restricted in front of house 22 along Sverdlovskaya Embankment, and on Tuesday, May 16, along Sverdlovskaya Embankment near Feodosiya Street.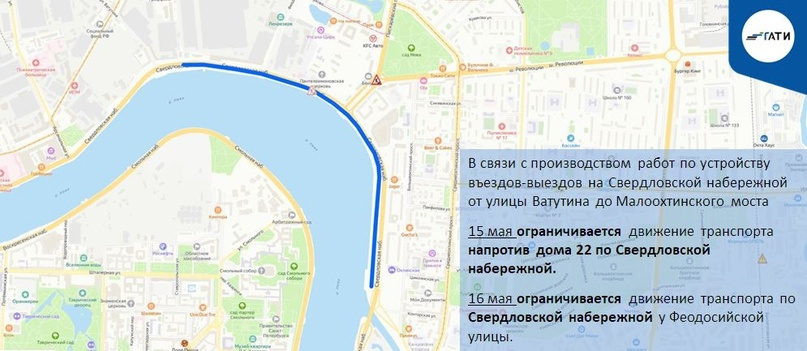 Share
Krasnoselsky district
In Krasnoe Selo, the traffic pattern will be changed by the laying of engineering networks. From May 15 to May 28, Young Pioneers Street will be blocked from Mokhovaya Street to Collective Street. A detour is provided along the streets of Lermontov, Svoboda and Young Pioneers.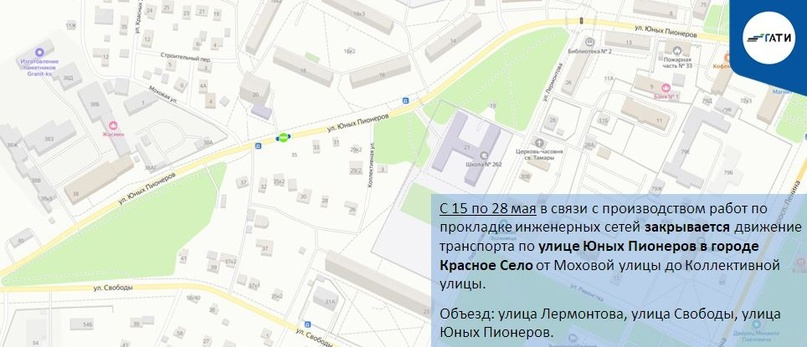 Share
Nevsky district
From May 16 to June 4, traffic will be limited near house 54 along Oktyabrskaya embankment. A temporary fence will be installed there.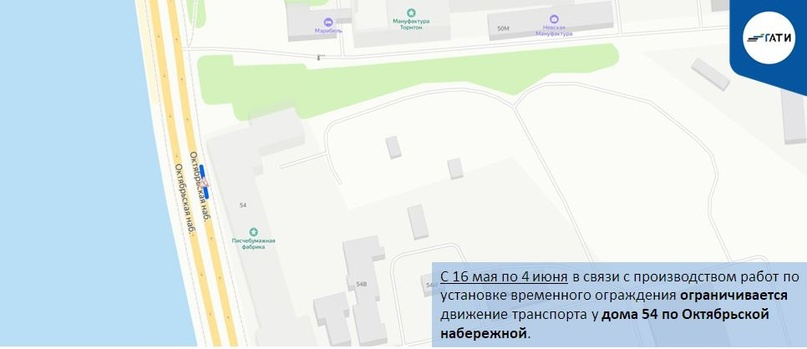 Share
Petrogradsky district
On the Petrograd side, from May 15 to July 19, a gas pipeline will be laid on the embankment of the Malaya Nevka River and the Krestovka embankment from Sanatornaya Alley to 2nd Birch alley. In this regard, from May 15 to May 23, traffic will be closed along the Malaya Nevka River embankment in the direction from Sanatornaya Alley to Dynamo Avenue, and until May 30, along the Krestovka Embankment in the direction from Dynamo Avenue to 2nd Birch alley. The detour is provided on the route: Sanatorium alley, Side alley, 2nd Birch alley, Big alley.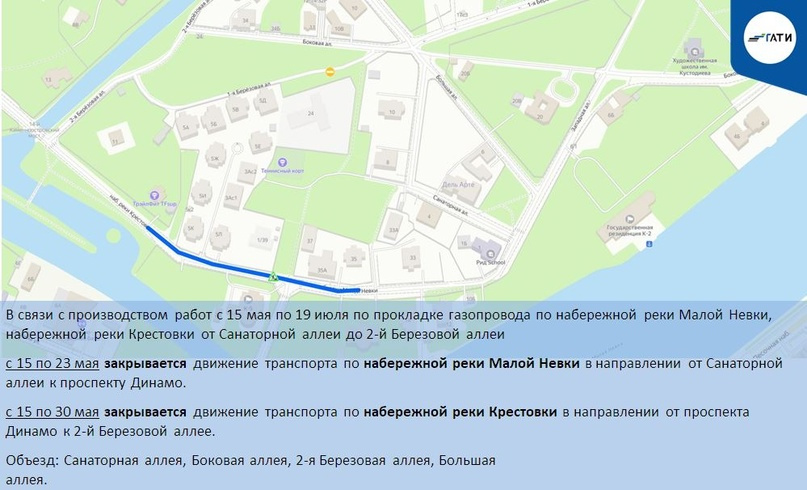 Share