From April 29, new overlaps and restrictions await drivers in six districts of St. Petersburg: Central, Admiralteisky, Petrogradsky, Vyborgsky, Kalininsky and Krasnogvardeisky. Including Birzhevoy Bridge will become unavailable for more than a week.
Petrogradsky district
From April 29 to May 8, both traffic and pedestrians will be closed on the Birzhevoy Bridge, the press service of the State Administrative and Technical Inspectorate of St. Petersburg reports on April 27. After the repair of the crossing, the supports will be dismantled. At the same time, traffic restrictions will be introduced along the Makarov Embankment from Tiflisskaya Street to Birzhevoy Proyezd.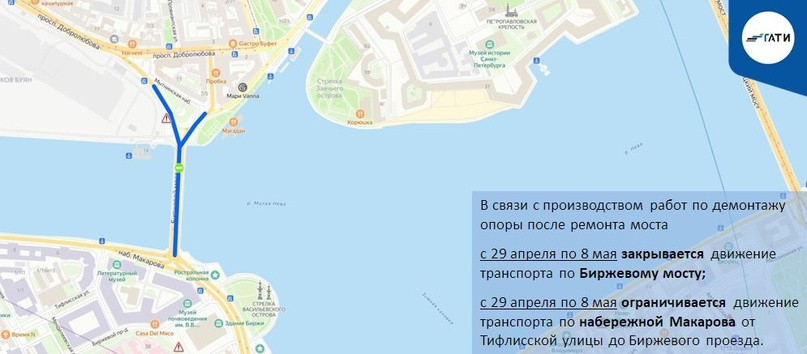 Share
central District
Until May 4, travel will be limited along the Obvodny Canal embankment from Atamanskaya Street to Dnepropetrovsk Street. The road surface will be repaired.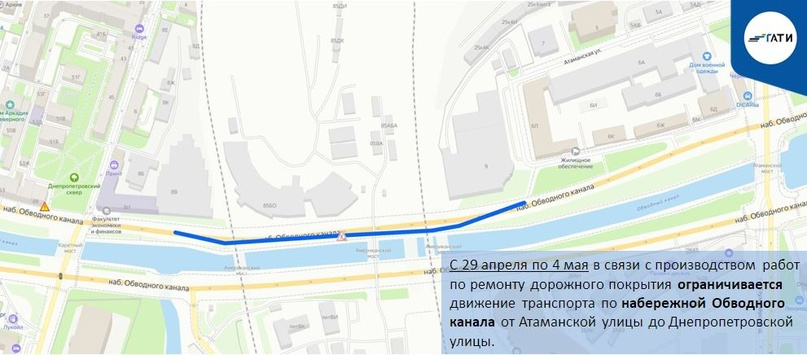 Share
For the laying of engineering networks, until May 5, traffic will be blocked along Novgorodskaya Street in the direction from Moiseenko Street to Kirochnaya Street, and until May 8, traffic will be limited at the intersection of Novgorodskaya Street and Degtyarny Lane. The detour is provided along Degtyarny Lane, Moiseenko Street, Novgorodskaya Street, Krasnogo Tekstilshchik Street and Kirochnaya Street.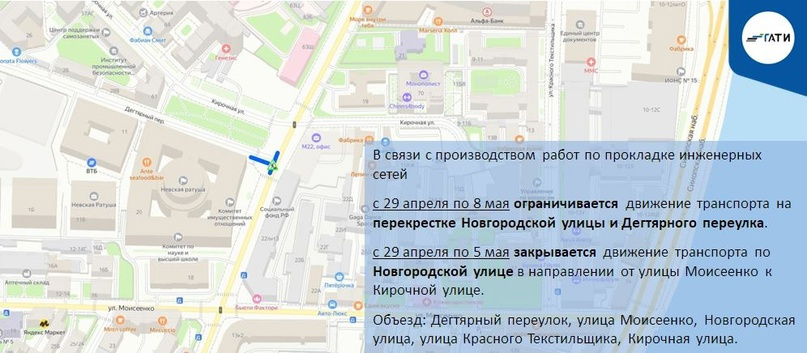 Share
And until October 8, traffic will be restricted near house 60 along Nekrasov Street in the direction from Grechesky Avenue to Fontannaya Street and at house 10 along Grechesky Avenue in the direction from 9th Sovetskaya Street to Nekrasova Street. There will be a pedestrian gallery.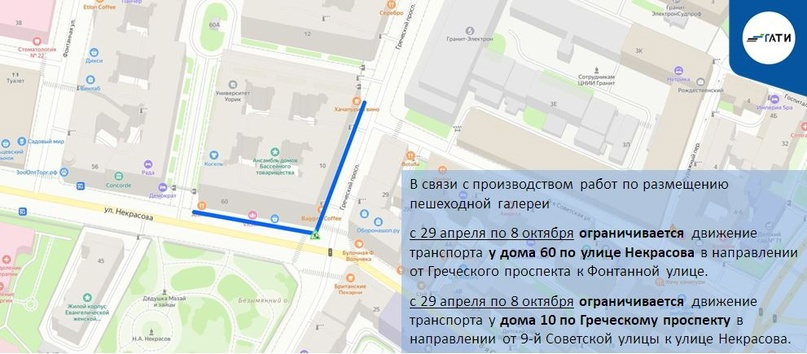 Share
Admiralteisky district
Until May 9, Bolshoy Kazachy Lane will be blocked from Gorokhovaya Street to Maly Kazachy Lane. There, since the end of March, a temporary gas pipeline has been under construction on the section from Gorokhovaya Street to Zagorodny Prospekt. The work is to be completed by May 18th. The overlap can be bypassed along Gorokhovaya Street, the Fontanka Embankment and Maly Kazachy Lane.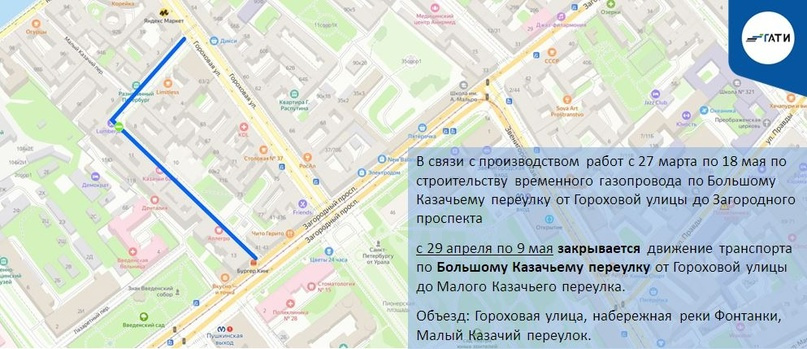 Share
Vyborgsky district
Until May 10, travel will be limited along the Bugrovsky overpass as part of the Prospekt Kultury. The road surface will be repaired.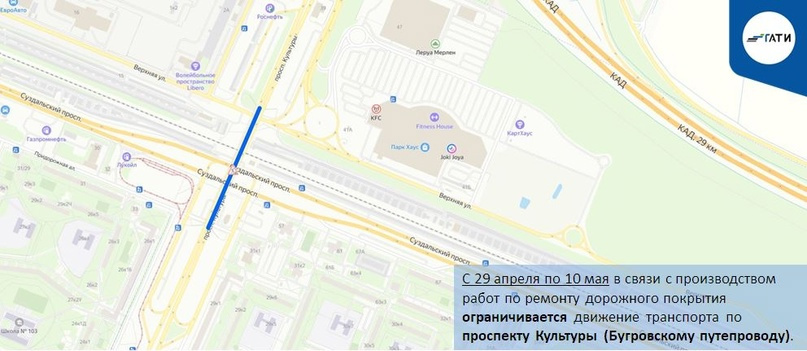 Share
Kalininsky district
Restrictions will be added on Lunacharsky Avenue due to the work on laying a cable line, which has been ongoing since April 8. From April 29 to May 18, traffic will be limited along Lunacharsky Avenue from Rustaveli Street to Cherkasova Street. Until June 15, there is also limited travel along Rustaveli Street near Lunacharsky Avenue. The work is to be completed by October 5th.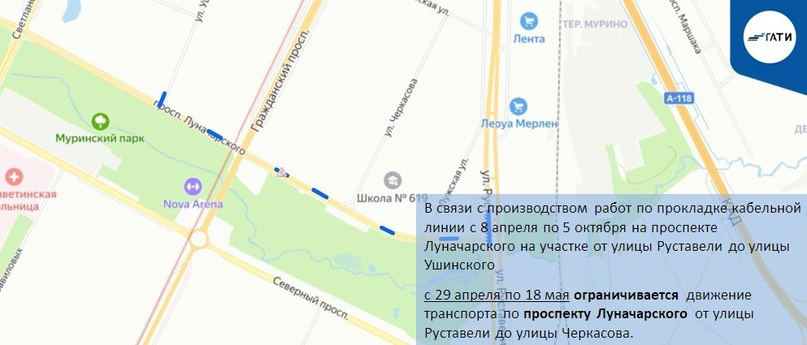 Share
Krasnogvardeisky district
On April 29, on Bolshaya Porokhovskaya Street, the repair of tram tracks will start on the section from Sredneokhtinsky Prospekt to Energetikov Avenue, which will last until May 9. Until May 4, due to work on this segment of Bolshaya Porokhovskaya Street, traffic will be limited.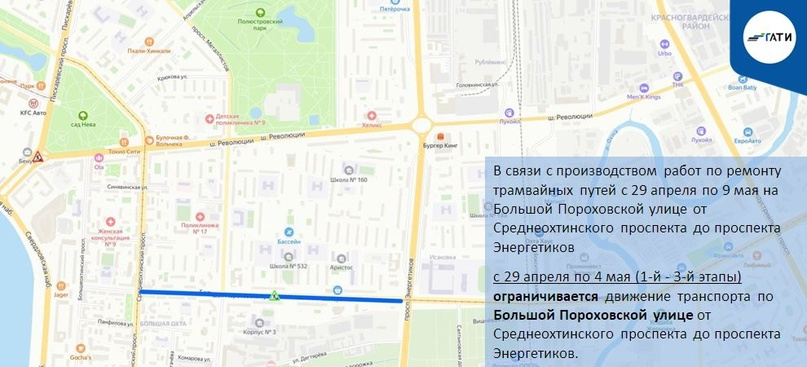 Share