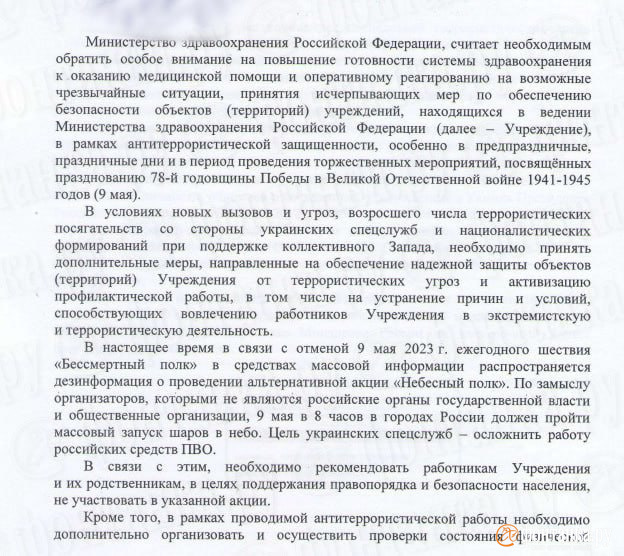 Russian doctors and their relatives are not recommended to participate in the supposedly "alternative" action "Heavenly Regiment" to the Immortal Regiment. It was invented in Ukraine to complicate the work of air defense, according to a letter sent to the institutions of the Ministry of Health from Mikhail Murashko.
According to the document (available to Fontanka), "in connection with the cancellation of the annual Immortal Regiment march on May 9, "disinformation is being spread about the holding of an alternative action called the Heavenly Regiment." Participants are invited to launch balloons with photographs of participants in the Great Patriotic War into the sky.
"According to the plan of the organizers, which are not Russian state authorities and public organizations, on May 9 at 8 o'clock in the cities of Russia there should be a massive launch of balloons into the sky. The goal of the Ukrainian special services is to complicate the work of Russian air defense systems, "the document says.
Employees of medical institutions and their relatives are advised not to participate in the action.
The Ministry of Education also previously declaredthat the "Heavenly Regiment" is a fake and urged not to take part in this "action".
At the same time, the Telegram channel "War on Fake" also issued a rebuttal about holding the "Heavenly Regiment" instead of the "Immortal". "Such an action is not planned, this is a provocation of the Ukrainian special services," the authors of the channel said.
"A common feature of all instructions for the manufacture of balls, rockets, aircraft and flying saucers for the action is the mandatory use of foil or metallized film in the construction. This is done in order to turn the object into a chaff – a false target on the screens of air defense radars, "the War on Fakes report says.
In addition, the document says about the need to take additional security measures for medical institutions in the framework of anti-terrorist work. Among them, strengthening measures to prevent illegal entry into the territory, protect information resources and official information, identify potential regime violators at facilities, suppress attempts to commit terrorist attacks and minimize their possible consequences. The department also requires timely refutation of fakes. Personnel need to be checked for readiness to act in the event of a threat of sabotage or terrorist attacks.